Do you want to make your kids happy this Christmas? Bring them to Disney on Ice.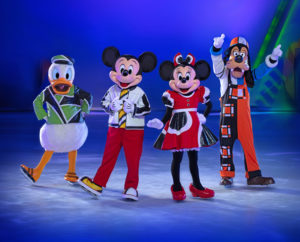 This Christmas, treat your kids to an unforgettable experience by taking them to Disney on Ice. This magical visual extravaganza will transport them to a world of enchantment and wonder, leaving them with memories they'll cherish forever.
Disney on Ice is not your average show or theme park visit. It combines cutting-edge technology, stunning animations, and beloved Disney characters to create a mesmerizing spectacle. From the moment your kids step into the venue, they'll be captivated by the vibrant colors, dazzling effects, and larger-than-life projections, creating an immersive experience like no other.
The highlight of Disney on Ice is the chance for your kids to see their favorite Disney characters come to life. Whether they love Mickey Mouse, Elsa, Simba, or Woody, the excitement on their faces as these beloved characters dance, sing, and embark on magical adventures will be priceless.
But Disney on Ice offers more than just beautiful visuals. Interactive elements make the experience even more engaging and participatory for kids. From interactive games to sing-alongs and virtual interactions, your kids will feel like they're a part of the show themselves, creating unforgettable memories.
The enchantment extends beyond the visuals. The entire venue is transformed into a whimsical wonderland, with themed decorations and joyful music that enhance the overall experience. Every detail is designed to immerse your family in the Disney magic.
As parents, there's nothing more rewarding than seeing the happiness and excitement in our children's eyes. Bringing them to Disney on Ice will undoubtedly create moments of pure joy and wonder. It's a chance for them to be transported to a world of imagination and believe in the power of dreams.
This Christmas, give your kids the gift of magic and bring them to Disney on Ice. It's a perfect family experience that will create cherished memories for years to come. Get your tickets now and prepare to witness the happiness in your children's eyes as they embark on a journey filled with enchantment and wonder.