Every year, people all over the world celebrate Halloween, and decorating your home with spooky decor is one way to do so. It's never too late to start your Halloween decorations, especially if you're on a tight budget and want to construct your own inexpensive, do-it-yourself Halloween decorations.
The options for decorating your home for Halloween are virtually limitless, ranging from easy homemade decorations to pre-made decor. Whether indoors or outdoors, you'll have no trouble celebrating October 31 in style with so many of these Halloween decorating ideas to choose from.
Display Creepy Signs
By creating Halloween yard signs, you may add another lovely Halloween touch to your home's exterior. These should be the names of several Halloween or frightening locations with arrow-shaped signage that appear to be pointing to these eerie locations. You may make signs for the "Witch Dungeon," "Bates Motel," "Transylvania," "Elm Street," and any other place you and your kids wish. Put them in the window in front of your house, on stakes in the ground, or attached to a tree.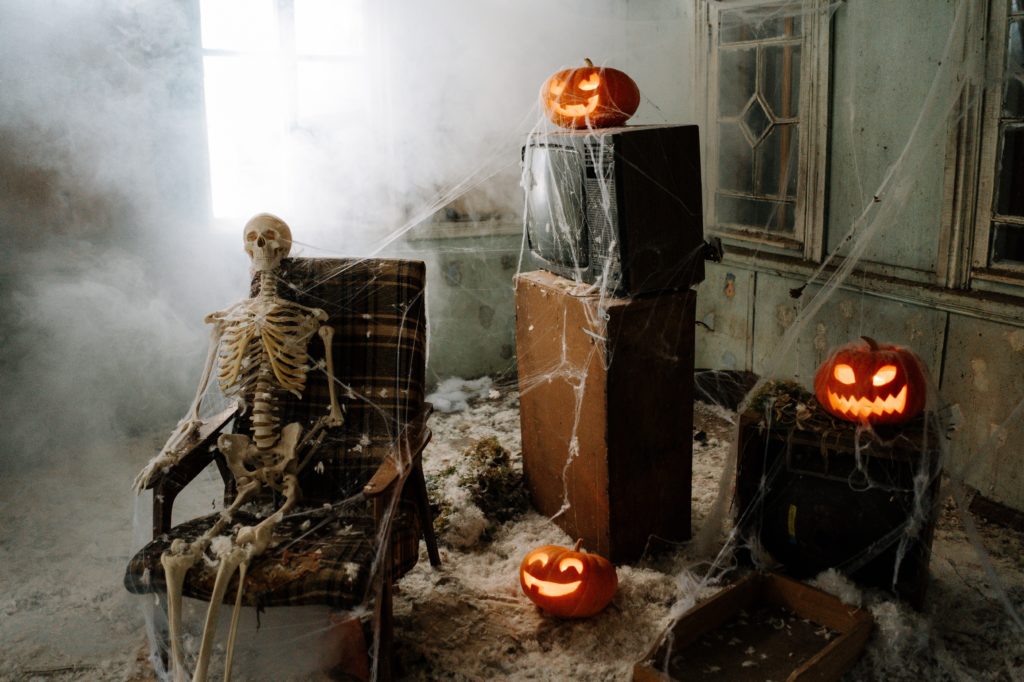 Googly-Eyed Plants
These googly-eyed accents are what give plants in every nook and cranny a fun yet spooky fun. Make it seem like anyone passing by your house is being watched by your outdoor plants from every angle. Make a pair of gourds or avocado pits painted white with craft paint, then hot glue the "eyeballs" on wooden stalks to create the gawking greenery. Anyone will be forced to take a second look if you tuck them into the leaves.
Display Dripping Candles
For this one, all you need to do is burn a few drip candles, give them some time to work, and then spread them over your house. Use vintage wine bottles that have been spray-painted black to display them, or other colored candles, such as an inexpensive orange taper candle, to create a truly spooky impression.
Place Ghosts in Front of Your House
Aside from buying ghost decors, you have a few DIY options for creating the ghosts you'll place in your front house.  The first choice is to purchase wire and use it to make shapes. If you have kids,  they can help since this is more of a creative challenge. You only need a basic wire body form. The shape can then be covered with a sizable white dress, such as the one you acquire at a discount store, or with any white fabric. It gives the impression that ghosts are simply floating.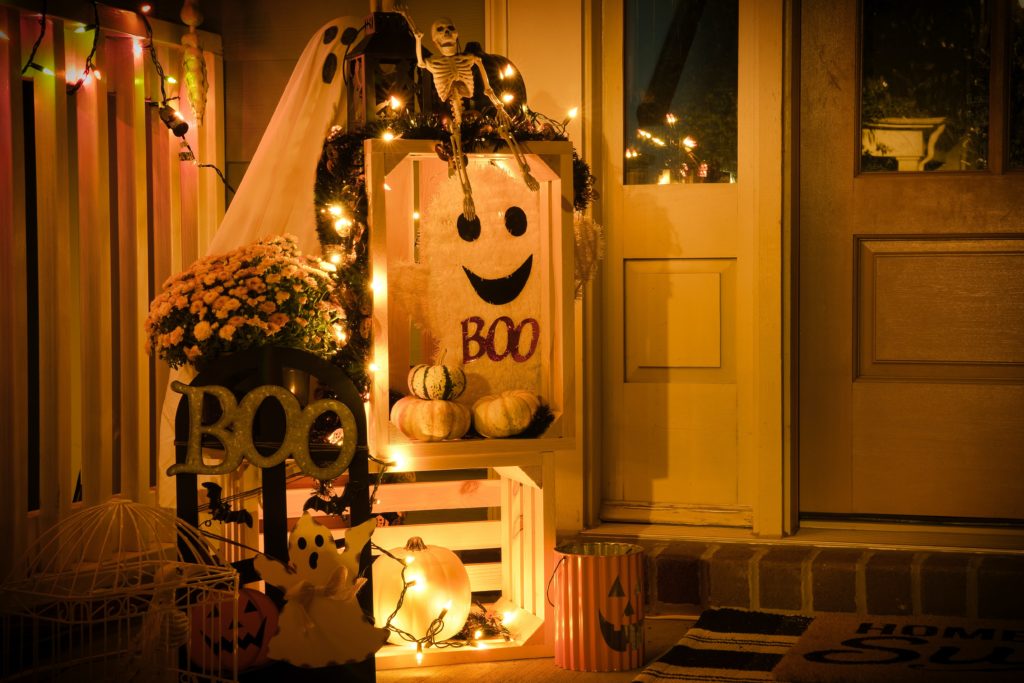 Serve Eyeball Chocolates
This Halloween, transform the item into a bowl filled with chocolate googly eyes and wrapped in black construction paper. By using hot glue to affix some candy wrappers with googly eyes, serve chocolate "eyeballs," or chocolates wrapped in foil with a bloodshot-eye pattern, in a small black bowl to simulate a miniature cauldron.
Spooky Ghosts and Paper Bats
Using decorations that flow to set the perfect mood is a great way to celebrate Halloween. This eerie, entertaining setup of flying bats and floating ghosts can work. Your paper bats can be attached to the wall in a variety of ways to make them appear to be taking off or getting ready to swoop on unfortunate prey. The ghosts can be hung from the wall, across the fireplace, or wherever else you like in the meantime. Everything comes together in a fun way that doesn't take away from the Halloween mood.
Potions and Poison Bottle Setup
Do certain areas of your home seem to be begging for poison bottles? Preparing an elaborate and imaginative glass bottle display will deceive visitors into thinking they are the real deal. You can utilize a range of tall bottles, including wine bottles and oil containers. The finest part is aging the bottles to make them appear as though they would be at home in a witch's den or an abandoned store. It's not difficult to get labels with Halloween designs to complete the eerie look. You can add more variety and more bottles as you go, creating a cocktail of various toxins and poisons.
Decorative Tin Can Halloween Lanterns
A great idea to decorate for the season while staying within your budget is to reuse everyday materials and transform them into something more remarkable. Additionally, this idea gives the conventional Jack o' Lanterns a distinctive twist. This is another enjoyable family project because you can paint any face on the cans. LED lights fit within them beautifully because there is no wax mess to clean up. Additionally, you may always drill some holes into the cans near the eyes and mouth if you want to show off the lights more.
Painted Halloween Wooden Spoons and Holder
When it comes to decorating, the little things always matter, and these painted spoons are a terrific way to brighten up the kitchen area, especially if you don't have enough room for other, larger pieces. You can create faces that resemble monsters, ghosts, or anything else your imagination can think of. Toss them into the appropriate Halloween container. If you use flowery foam, the spoons will stand up well, keeping the decoration in place.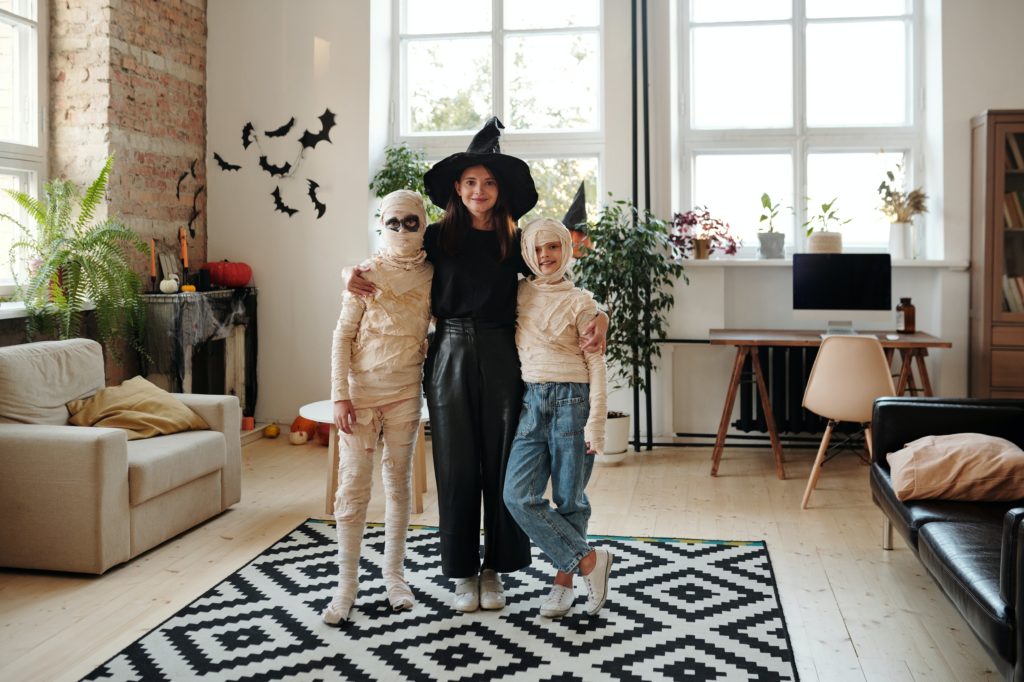 Embroidery Spider Web Hoops
Have you ever thought about how much an embroidery hoop may be altered? When the right tools are used, they build excellent spider webs. It's a simplified method for Halloween decoration, but it still works well. A single spider or a group of them can be used. This is fantastic since it gives you lots of room to play around with different modifications to the hoops.